November 6, 2023: Nexperia, a specialist in high-capacity production of basic semiconductor devices, today announced a partnership with KYOCERA AVX Components (Salzburg) GmbH, an internationally renowned supplier of advanced electronic devices, to produce new 650 V, 20 A silicon carbide (SiC) rectifier modules for 3 kW to 11 kW power stacks designed for high-frequency power applications for applications such as industrial power supplies, EV charging stations and on-board chargers. This release will further deepen the longstanding and close working relationship between the two companies.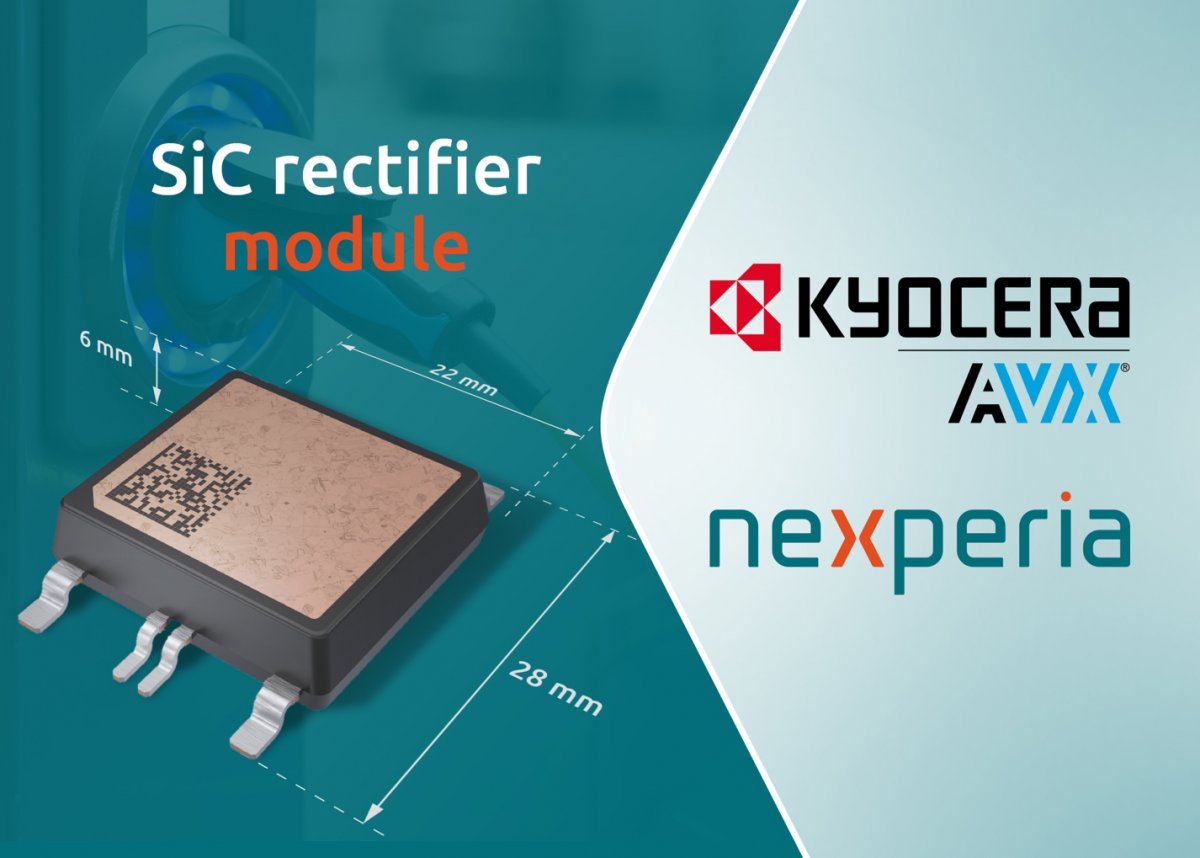 Key requirements for manufacturers for next-generation power applications are space savings and weight reduction. The compact size of this new SiC rectifier diode module reduces the amount of space needed on the board, helping to maximize power density and reduce overall system cost. Thermal performance is optimized through the use of a combination of top-side heat sink (TSC) and negative temperature coefficient (NTC) sensors, and the NTC monitors the device temperature and provides real-time feedback for device- or system-level prediction and diagnostics. The rectifier diode module is packaged in a low-inductance package for high-frequency operation and is validated to operate at junction temperatures up to 175°C. The rectifier diode module is also available in a low-current package.
In this collaboration, Nexperia and KYOCERA AVX have combined top-of-the-line silicon carbide semiconductors with best-in-class module packaging technology, which will enable Nexperia to better meet the market's very high power density power electronics demand for very high power density power electronics. The release of this rectifier diode module is the first step in a long-term partnership between Nexperia and KYOCERA AVX on SiC."
Thomas Rinschede, Vice President of Sensing and Control at KYOCERA AVX Components, said, "We are pleased to further deepen our successful partnership with Nexperia to produce SiC modules for power electronics applications. KYOCERA's expertise in modules results in an irresistible product for customers seeking higher power densities and wanting to use wide-band semiconductor technology."
Nexperia expects to sample the new SiC rectifier diode modules in the first quarter of 2024.
For more information about Nexperia's SiC diode products, please visit: www.nexperia.cn/sic_diodes. "For more information about the SiC rectifier diode modules, please contact your or Kyocera AVX sales representative.