VisIC Technologies Ltd, a global leader in advanced gallium nitride (GaN) power electronics solutions, is excited to introduce the highly anticipated power package V22TG D3GAN, a revolutionary power package that sets a new standard for performance, reliability and versatility in the automotive industry with its advanced gullwing lead top-side cooled isolation package. The VisIC's V22TG D3GAN.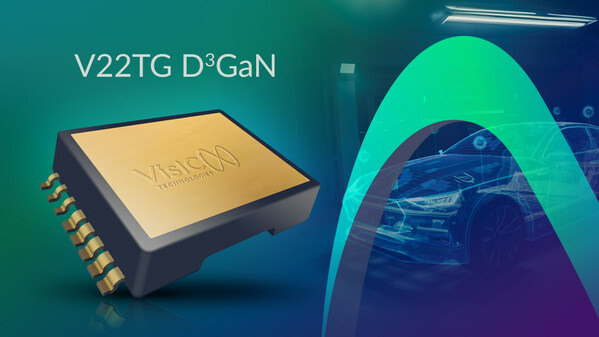 VisIC's V22TG D3GAN Advanced Top-Side Cooled Isolated Package
Designed with the future of electric vehicles in mind, the V22TG D 3GAN brings together a range of cutting-edge features for superior power density and efficiency. The compact power package has a small footprint of 19.7x13.6mm (including leads), providing automakers with flexibility in system design and integration. Compliant with automotive AEC-Q101 standards, this power package can also be used for high reliability applications such as server power supplies, data centers, solar inverters and a wide range of industrial applications.
Key features and benefits:
1. Advanced Top-of-Lead Cooling Isolation Package The V22TG D3GAN utilizes an innovative top-side lead cooling isolation package. This design enables excellent thermal management and ensures optimal performance and reliability in demanding automotive environments. In addition, the isolation package is easier to assemble because no additional isolation is required.
2. Automotive and High Voltage Control Capability: The V22TG D3GAN has been rigorously tested to meet automotive industry standards, making it suitable for a wide range of automotive applications such as OBCs, fuel cells, and hybrid electric vehicles. With a voltage capability of 650V, this SMD power supply package easily and efficiently meets high voltage requirements.
3. High power density and low on-resistance: With a low on-resistance of 22mΩ, the V22TG D3GAN produces excellent power density, allowing automotive manufacturers to create more compact and lightweight systems without compromising performance. This superior power density ensures maximum efficiency and reduces energy loss.
4. Versatile and easy to implement: The V22TG D3GAN is designed to support a variety of system configurations, including device shunt, full-bridge, half-bridge topologies and power factor correction (PFC) circuits. This flexibility allows for seamless integration into a variety of power electronics applications.